Rufous-capped Warbler (Basileuterus rufifrons) is a widespread warbler species ranging from the southern fringe of the US to the northernmost bits of South America. Within that extensive range, populations form distinct subspecies groups. Northern birds (such as the ones that range occasionally into Arizona and Texas) are part of the white bellied northern group rufifrons. These populations (including the yellow bellied salvini of Guatemala and Belize) differ from more southerly birds in having a slimmer, longer-tailed structure and an entirely different vocal repertoire. These are important distinctions to make when comparing images and vocalization data available online. Birds from Pacific Guatemala south through Columbia and Venezuela are so distinct as to be considered a separate species at times. Rufous-capped Warblers that wander into Texas are believed to belong to the subspecies jouyi, which is part of the northern white bellied rufifrons subspecies group. Important distinctions for this subspecies include a strong rufous cap and rufous cheek patch; having yellow restricted to the throat and breast with remainder of the underparts pale grayish with browner sides and flanks. Importantly, the undertail coverts are grayish to off white. The song of Rufous-capped Warbler belonging to this subspecies group is variable, but is a series of somewhat staccato chips that often change pitch and interval during each song. Calls notes consist of somewhat hard, low pitched chips and much higher pitched tsik notes.
On Sunday, April 28th, I visited Chalk Bluff Park northwest of Ulvade, Texas seeking two Rufous-capped Warblers being reported there since first discovered by Tim Lentz on April 20th. These two birds hold territories well separated from one another. One, known as the "boat ramp" bird is located at 29 21.593, -99 59.078, just southeast of a boat ramp parking area at Chalk Bluff. The second individual holds a territory along the Pecan Trail which runs through a grove of trees. We relocated this bird at 29 21.659, -99 58.319, some 1200 meters east of the boat ramp bird.
The boat ramp bird is a classic northern type Rufous-capped Warbler in every respect. Its appearance is typical and it sings a standard northern Rufous-capped Warbler repertoire. The pecan trail bird, on the other hand, is distinctly different and has several attributes which suggest it is in fact a hybrid.
The first photo, taken in 2012, is of the bird that is occupying the boat ramp territory. Notice the distinct face pattern with a bright, sharply defined rufous cheek patch, overall slender shape and in particular, the plain coloration of the undertail coverts.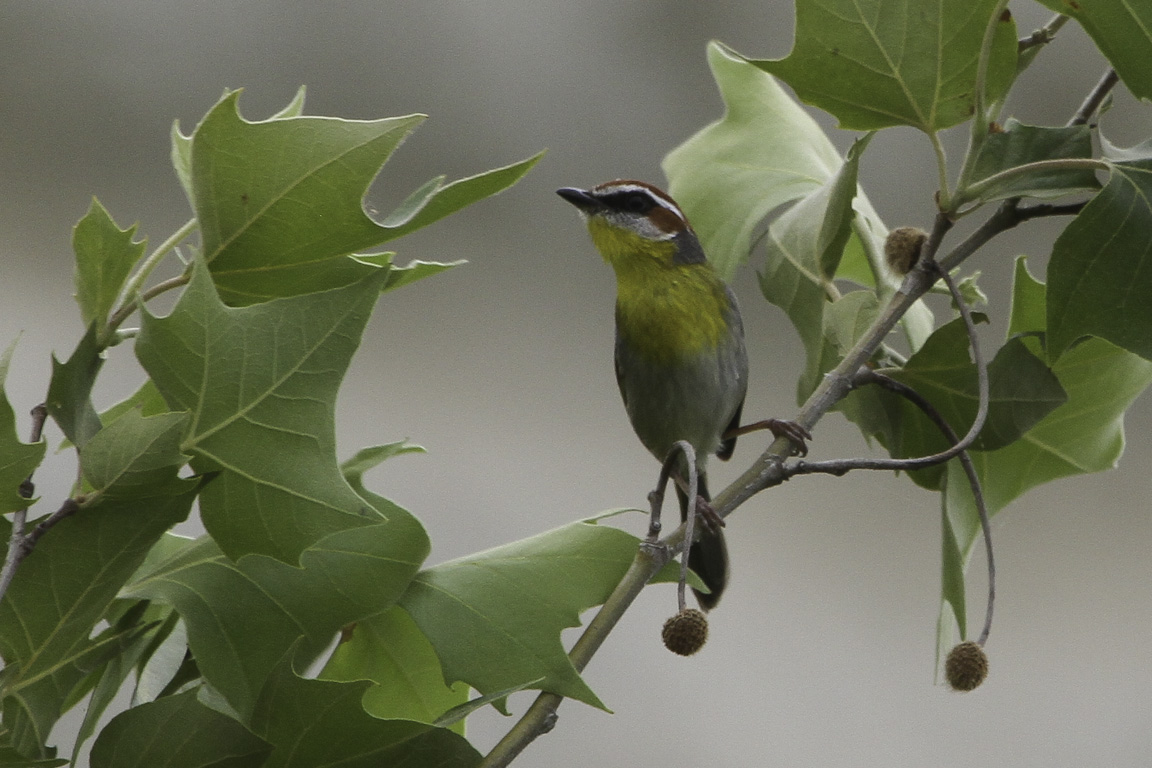 The next couple of photos represent the pecan trail bird. Notice the subtly different shape to the bird, a thinner, longer bill, the distinctly peculiar face pattern, and the clearly yellow undertail coverts. The muted rufous cheek patch with a pale whitish wrap around its rear border are features not characteristic of Rufous-capped Warbler.
Even more peculiar are its vocalizations. It sings a repertoire of Common Yellowthroat-like songs and was heard to give a rapid trill of chip notes indistinguishable from that of Common Yellowthroat. It was not heard to give any vocalizations typical of Rufous-capped Warbler.  A couple of song phrases are presented here.
I'm sure more critical analysis would reveal further distinctions indicative of hybrid origin for this bird. Its voice, structure, coloration, and behavior all suggest Rufous-capped Warbler X Common Yellowthroat as the parentage. Birders visiting the area in the next few weeks have a great opportunity to document this presumptive hybrid.