Those who know me really well know that in addition to my interest in birds, I've had a life long fascination with planes.  In fact, I learned how to use binoculars not by looking at birds, but by looking at planes beginning around the age of six.  Every now and then, I enjoy spending a little time watching them.  This is a good thing, since I spend a great deal of time in and around airports.
I approach planes in much the same way I approach flycatchers, gulls, shorebirds or other challenging IDs.  I want to understand the nuances that separate one from another.  Not just "is that an Airbus A320 or a Boeing 737", but whether that Airbus is an A318, A319, A320, or A321 and whether that 737 is a 200, 300, 400, 500, 600, 700, 800, or 900.  I know, pretty darn geeky.
Anyway, this was a fun little weekend for me.  Two things set it off.  First, I noticed that my favorite rare small plane, the McDonnell-Douglas MD-90, is now flying occasionally in and out of Tucson.  Since there are fewer than 30 flying in North America, it's like discovering you're suddenly on a Whooping Crane flyway.  The second bit of news was even more significant.  My friend Deb sent me an email noting that a Boeing 787 Dreamliner had arrived in Phoenix on Friday as part of a world tour designed to allow many of the businesses that supplied parts and technologies to see the finished product.  This is the first of the next generation of commercial aircraft coming online.  It is an amazing plane for too many reasons to explain here, but it has many innovations that will greatly increase passenger comfort and it will be much more fuel efficient than current airliners.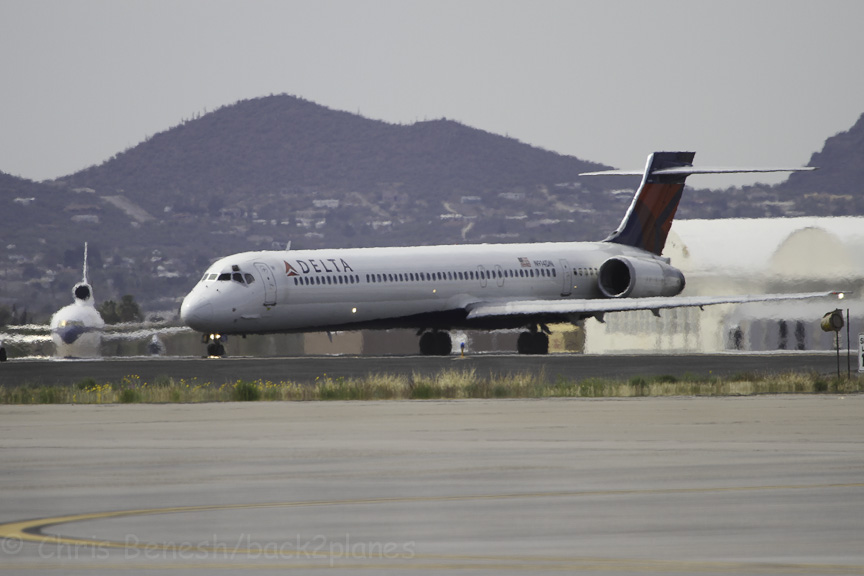 My first stop was Tucson International Airport, where I saw the mad dog take off bound for Minneapolis.  It was great to see this slick airliner on my home turf. Then I headed up to Phoenix to meet up with Deb and have a first look at the Boeing 787.  We spent some time enjoying it and watching the comings and goings of other aircraft.  It was great to see it on the tarmac, but I wanted to see it in action, so I planned to returned to Phoenix Sky Harbor the following morning in order to catch its departure on the next leg of its tour.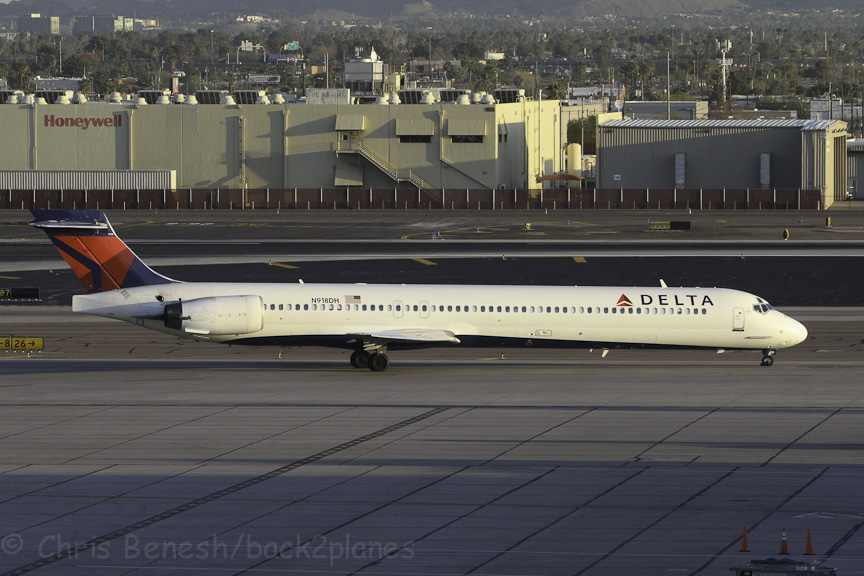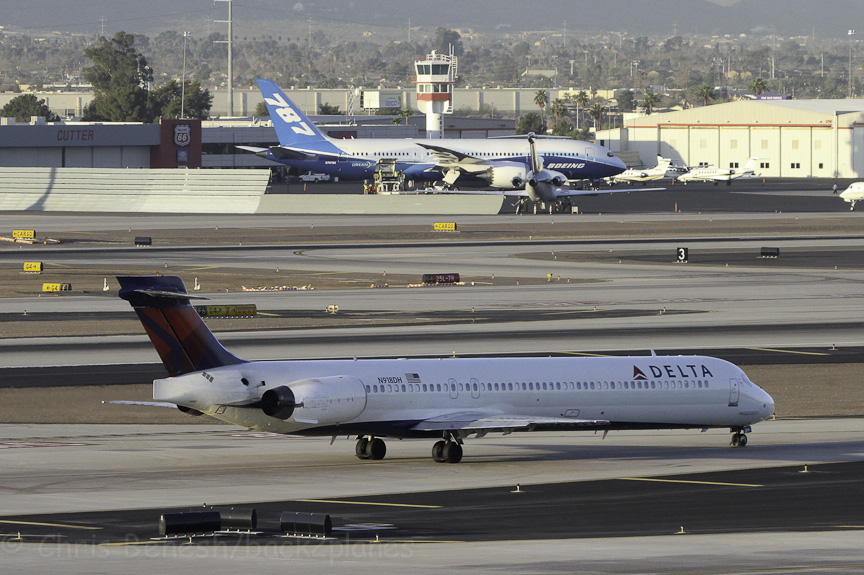 There was an added bonus when I arrived at PHX the following morning. Another MD-90 was parked at the Delta terminal (a newly acquired one that I had not seen previously).  I got to enjoy its taxi out and takeoff. One of the features of the MD-90 is how quiet and powerful it is, allowing it to be used in urban areas with strict noise limits and at high elevation airports where the air is thinner.  It is basically a slightly stretched MD-80 with much more powerful, higher bypass engines.  They have short take off rolls and launch quickly into the sky.  They are a blast to fly on.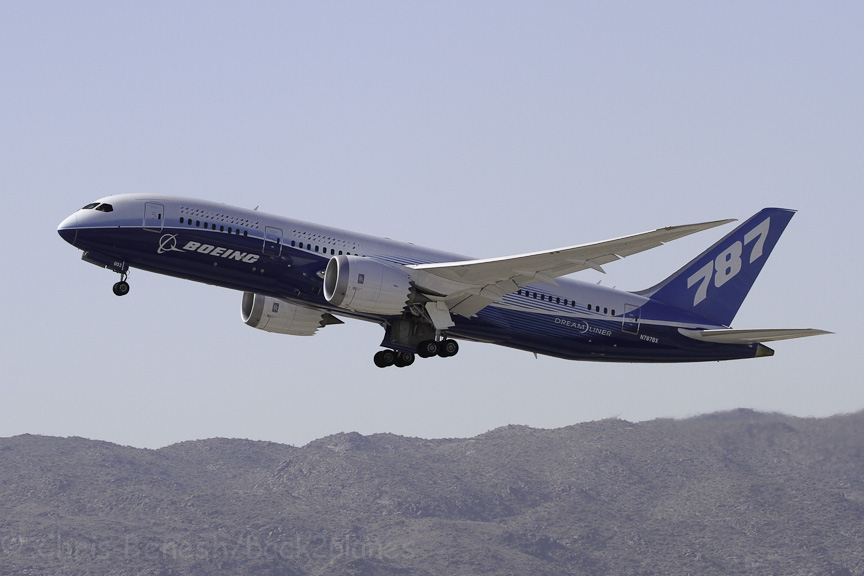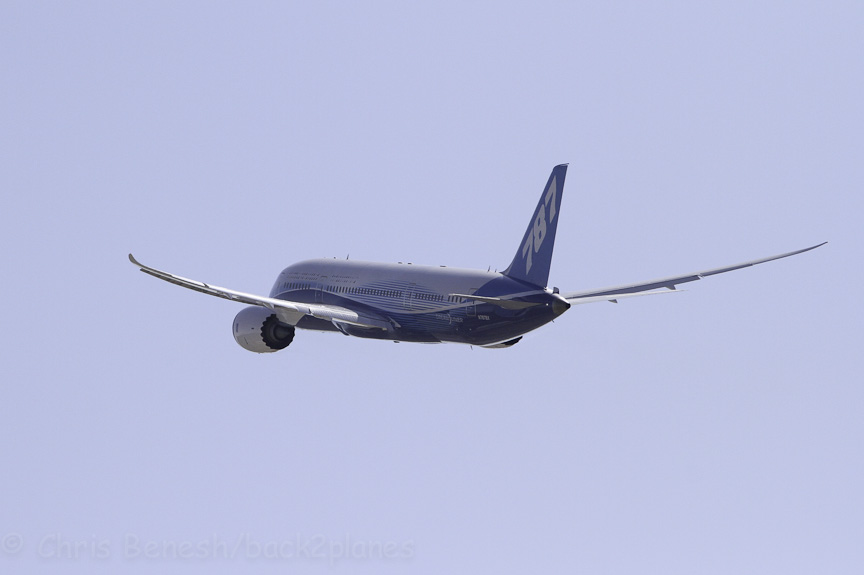 Eventually, the star of the show, the 787 fired up its Rolls-Royce Trent 1000 engines and taxied out for takeoff.  Its takeoff roll was an amazing sight.  First of all, it was incredibly quiet and it rotated into the sky using just a fraction of the runway a plane of its size would normally require.  It may look awkward to some, but to me it is a thing of beauty.  I can't wait to have the chance to fly on one someday.